It is both ecologically and economically unsustainable that food ends up as waste. The simplest way to reduce the environmental and economic impact of food is to prevent food waste.
The Food Waste Tracker is in demand
SmartKitchen Food Waste Tracker website is visited from all over the world. We have found that monitoring and reducing food waste is of increasing interest to food service companies in Europe, Asia, the Middle East, and the United States. We get the most inquiries and requests for quotations from these continents. Food waste is a global problem that requires action from all of us. Needless to say, food waste is the third biggest polluter after China and the US.
We made it easy to track food waste
SmartKitchen has responded to this need. We developed the "EasyStart" package from the Food Waste Tracker solution. The food service company can start monitoring food waste in an hour. And it doesn't even require technical expertise. The Food Waste Tracker EasyStart package consists of a wireless waste scale, an online service and remote training to ensure a smooth deployment. Food Waste Tracker is a digital solution for reducing food waste.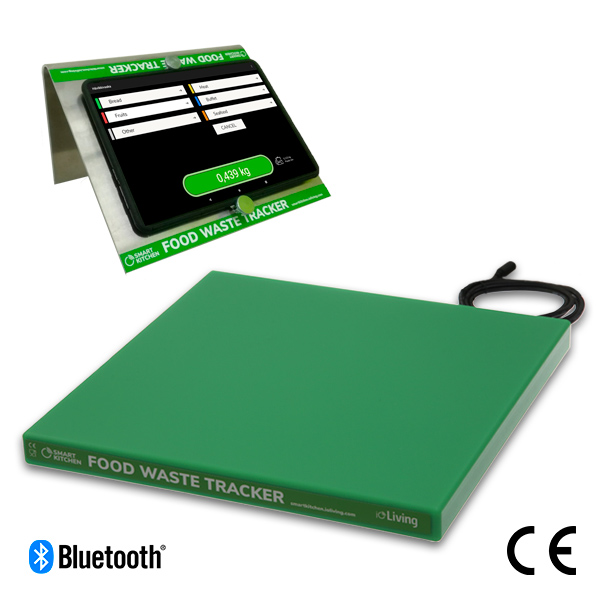 Why is reducing food waste so important?
Food production and consumption have a significant impact on the state of the environment and the use of natural resources. Studies show that about a third of all environmental pollution caused by consumption comes from food. At the same time, edible food ends up in the trash. If food ends up being waste, all the emissions in its production chain have been completely unnecessary. This could be avoided e.g. better estimating food consumption, preparing or storing food properly.
In its report, the United Nations Environment Programme (UNEP) estimates that an average of 17 percent of total food available to consumers, went into the waste bins of households, retailers, restaurants and other food services each year. An estimated 931 million tons of food. The weight roughly equals that of 23 million fully loaded 40-ton trucks. If all of these were put in a row, it would circle the Earth 7 times. One third of food is not eaten when production losses are added to the figure. Only housing puts more strain on the climate than food. Transport comes in third place.
of total food available goes into waste bins.
The weight roughly equals that of 23 million fully loaded 40-ton trucks.
If you put all these trucks in a row, it would circle the Earth
There are currently 7.7 billion people in the world. Ten billion is expected to be full by 2055. One key question is how to feed the world without destroying the planet. Already, one in nine goes to bed on an empty stomach each night.
Digital solutions help reduce waste
The climate impact of food consumption can be reduced by favoring foods with the least possible impact on the climate and minimizing food waste. Digital solutions play an important role in reducing food waste.