Would you like to monitor the quantity and quality of food waste generated in a food service operation with even greater precision? Connect the menu items from Jamix Kitchen Intelligence System and precise waste data from SmartKitchen's automatic Waste Scale. Integration between these two systems allows for more precise actions to optimize food production quantities and reduce waste.
JAMIX Kitchen Intelligence System is a comprehensive software for managing commercial kitchen operations, including recipe management, menu planning, inventory management, and procurement. You can record sales and waste data directly in the menu in the system, making it effortless for you to utilize this information when planning future menus.
SmartKitchen Food Waste Tracker is a digital tool designed to reduce food waste. It also complies with the regulations for recording waste in food services already established by many countries. The Food Waste Tracker helps you optimize production and serving quantities. It is a good tool also for estimating demand since you can track production and serving quantities in addition to waste. Waste data collection is automated with the wireless Waste Scale. SmartKitchen takes care of food safety and helps reduce food waste while integrating with your existing services.
Integration Streamlines Daily Operations in the Kitchen
Typically, commercial kitchens use multiple systems and devices, each with its specific function. However, the information in these systems often overlaps or is partially shared in kitchen operations. You might want to utilize, process, or report information from one system in another. Also, all employees don't necessarily use all the systems or devices in the kitchen. Therefore, transferring data between them becomes crucial.
Integration enables data to be transferred automatically between systems.
"Digital data should be easily accessible and efficiently usable, considering appropriate data security. It benefits everyone and streamlines routines. That's why it's also important to us that SmartKitchen seamlessly integrates with the digital services already in use in kitchens," says Teemu Lankila from SmartKitchen.
Doing double work benefits no one. Therefore, you can store data in one system and utilize it directly in another through integration.
"An important part of Jamix's strategy is to be an active player in the commercial kitchen ecosystem. We want to enable seamless data flow between different systems and devices, making our customers' lives easier and freeing up time for other tasks," says Timo Lehto from Jamix.
How Does the SmartKitchen – Jamix Integration Work?
Thanks to the integration, Food Waste Tracker has access to up-to-date information about the menu created in Jamix system. The menu items are displayed on the SmartKitchen Waste Scale screen for waste recording.
Recording waste on the Waste Scale is easy and quick:
Place the generated waste on the waste scale, even in its own container. The container's weight is automatically subtracted.
The menu items fetched from Jamix are displayed on the scale's touch screen. Select the correct item from the list.
The waste recording is now complete and saved in the system.
Automated recording on the Waste Scale ensures that all waste is recorded. The risk of human recording errors decreases, and the staff will save time for other tasks.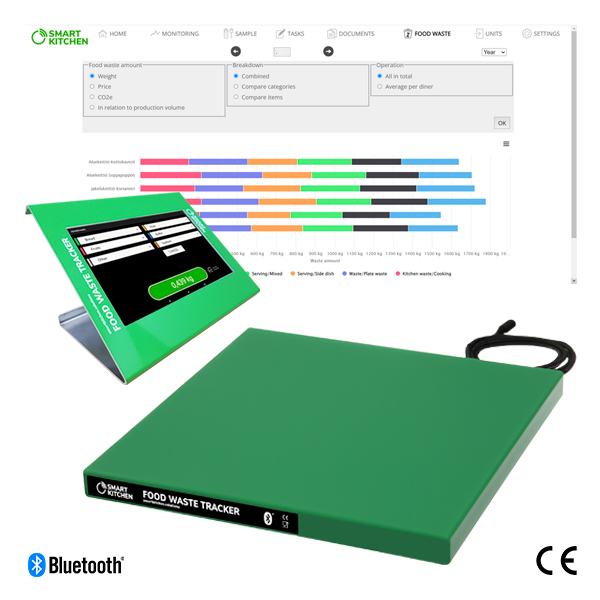 The integration transfers data in the other direction, as well.
The data recorded in Food Waste Tracker is immediately visible in Jamix System, where you can analyze it for each menu item. You can use this information in menu planning to optimize future quantities and make adjustments to your menu.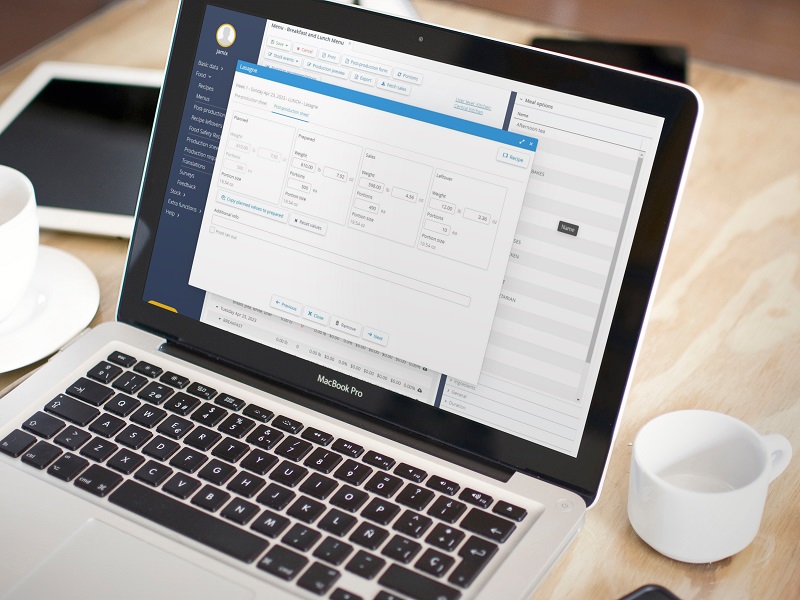 SmartKitchen – Jamix Integration Enables More Precise Tracking of Food Waste in the City of Mikkeli
Reducing waste is a strategic choice for the city of Mikkeli. It is part of both Mikkeli's climate program and the Sustainability Plan for Mikkeli Food and Cleaning Services.
Efforts to reduce food waste include efficient use of production inputs: Appropriate purchase orders, package sizes, and production quantities, as well as food waste prevention. Mikkeli produces an impressive 7,500 meals per day!
The Food Waste Tracker with Jamix integration is in use in Mikkeli's schools and kindergartens, and they are happy with the service. It has enabled more precise tracking of food waste and identifying its causes over a longer period. Food Waste Tracker is actively used for meal and menu planning as well as optimizing order quantities.
"Waste data used to be incomplete and impossible to compare. Food Waste Tracker provides us with comprehensive real-time waste data. We can make data-based decisions," says Annukka Kiiskinen, Service Manager at Mikkeli City Food and Cleaning Services.
"The goal is to rationalize food quantities and orders. Only with proper data can we see the right things. Previously, we relied on hearsay, and the perception was completely different from reality. For example, a favorite dish turned out to be a 'least favorite,' resulting in a lot of waste," adds Annukka.
You Can Reduce Food Waste with Data
Reducing food waste is an important part of responsible and sustainable operations. Smaller amount of food waste also saves costs. Reducing food waste in food service operations requires reliable and precise information about the quantity and quality of waste.
The SmartKitchen –  Jamix integration facilitates the transfer of necessary data between systems, making food waste monitoring effortless. Based on this information, you can take concrete actions and monitor their effects both in the short and long term. Reducing food waste is an ongoing process of learning and collaboration!