Food Waste Tracker Easy Start
Ready-to-use service for food waste monitoring
Great that you have decided to reduce food waste! Reducing food waste saves money and frees up staff time on essentials when routines are automated. At the same time, the company's environmental impact is decreasing.
The Food Waste Tracker Easy Start is a complete package that does not require any technical expertise to implement. The Waste Scale is placed on the floor or table and connected to the mains. Then log in to the SmartKitchen online service. It's just that easy.
We have created a few general waste items for the user account. This will allow you to immediately start recording wasted food. Edit and add waste items to suit your business. Easy Start delivery includes two hours of online training.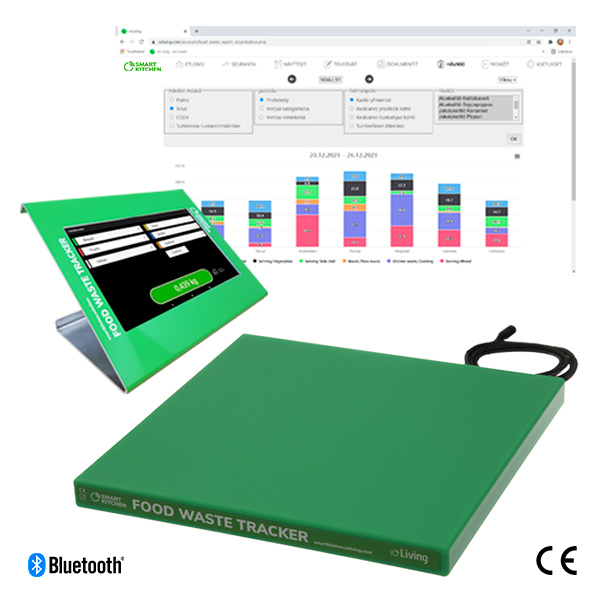 Food Waste Tracker EasyStart packages
The size of a waste scale means the maximum amount of weight that can be weighed with it.
Food waste tracking solution with 35 kg scales 1 pc
Food waste tracking solution with 35 kg scales 2 pcs
Food waste tracking solution with 35 kg scales 5 pcs
Easy Start 10
Scale 35 kg
Food waste tracking solution with 35 kg scale 10 pcs
Easy Start 1
Scale 150 kg
Food waste tracking solution with 150 kg scale 1 pc
Contents of the Easy Start package
A wireless Waste Scale

Android tablet, Internet connection ready with SmartKitchen SIM card, application pre-installed

Wall / table mount for tablet
Getting started guide

Use license for 12 months, after which from 33 € / month depending on the extent of the use.

2 hour training for the service main user. Implemented as online training at a separately agreed time.
Warranty
The product has a 13-month warranty from the date of delivery. The warranty covers material and manufacturing defects.
Waste Scale, specifications
Scale 35 kg (WSS35)
size 35 x 35 x 3 cm
max. load 35 kg
repeatability ±10 g
Scale 150 kg (WSS150)
size 60 x 60 x 4 cm
max. load 150 kg
repeatability ±50 g
BOOK A DEMO
If you are interested in digital management and reducing food waste in professional kitchens, book a demo. Leave us your contact information and we will get back to you as soon as possible.